New Gems of Design V-Cubes
Vietnam & Ireland
V-Collections is reaching more people and places with an impressive series of world destination cubes.
Vietnam and Ireland are two amazing new cubes from the Gems of Design series. These cubes are educational and exciting offering you the double challenge of solving the Cube AND the Puzlzle!
Designed for exploring the natural beauty and history of Vietnam and Ireland, these two new cubes not only challenge your skills but travel your imagination from Southeast Asia to Northern Europe.
Vietnam
V-Collections Gems of Design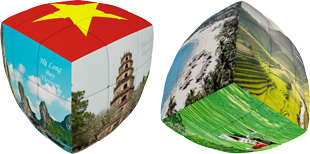 From the iconic Thien Mu Pagoda, with its seven  stories, the tallest religious building in Vietnam  and the beautiful beaches of Nha Trang Vietnam, to Mekong Delta, the world's 12th longest river and the country's symbolic, red Vietnam Flag,  Gems of Design Vietnam offers great challenge and discovery.
Ireland
V-Collections Gems of Design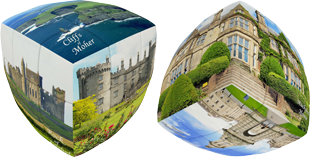 From the Rock of Cashel, which, according to local myth, landed in Cashel when St. Patrick banished Satan from a mountain cave and the Cliffs of Moher, 390 ft. above the Atlantic Ocean to the splendour of the 12 century Kilkenny Castle and Muckross House, with its 65 rooms, Gems of Design Ireland is an amazing new cube to turn&learn.
Tags: V-Collections, Gems of Design