Vote for V-CUBE in the European Business Awards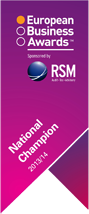 Help V-CUBE™ to Become the National 'Public' Champion for Greece in the European Business Awards.
V-CUBE™ has already been selected as one of the national champions in the European Business Awards, representing Greece. We have now submitted a video of the company online, giving an in-depth story of our business and successes and will compete against all other country national champions for the public vote. The company with the most votes will be named 'National Public Champion' for Greece on 14th January.
We invite you to watch our video entry and cast your vote in our favour before the end of the year. Voting is easy and will only take a moment of your time. In the "Vote for Your Entry" box, type your email address and click the VOTE button. You will receive an automated email in your inbox - just click the link within the email to confirm your vote.
Our video entry can be found at the link below:
V-CUBE video entry for the UKTI Award for Innovation
We would like to thank you all in advance for your support.
Warm regards,
The V-CUBE™ Team