Pentawards - Silver award for the V-CUBE 2™ packaging – 2011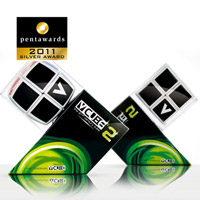 Pentawards is the first on-line global awards competition devoted entirely to packaging design. V-CUBE™ won a silver award in the "Other markets - Entertainment" category for the pioneering V-CUBE 2™ packaging.

Amongst the Pentawards winners this year were some of the most famous brands worldwide like Coca Cola, Jack Daniels, Davidoff and Heineken. The only other toy to have ever won an award prior to that was Pokemon (Silver - 2009).