Greek Exports Awards – Honorary Award - Exporting Startup Company - 2013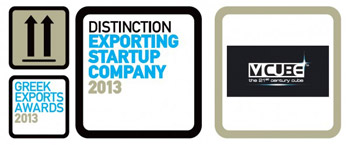 V-CUBE™ was given the honorary award of Exporting Startup Company for 2013 at the Greek Exports Awards 2013. The event was organized by the Greek Exports Forum which brings together some of the most important exporting companies in Greece, both already established and with a long history as well as new and upcoming like us.

Criteria for this recognition included the percentage of our exports, the number of countries we export to, the awareness around our brand and products as well as prior distinctions. The jury of the Greek Export Awards comprised of representatives from the Hellenic Bank Association, the Hellenic Foreign Trade Board, the National Confederation of Hellenic Commerce, the Athens Stock Exchange, the Athens University of Economics and Business, the Panhellenic Exporters Association, esteemed businesspeople and entrepreneurs as well as representatives from the public sector such as the Ministry of Foreign Affairs and the Ministry of Development.