European Business Awards - National Champion Nomination - 2013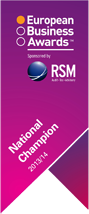 The European Business Awards (www.businessawardseurope.com) has announced today that V-CUBE is to represent Greece as a National Champion in the prestigious 2013/14 Awards programme. V-CUBE beat off stiff competition to be selected as a National Champion and will now compete for Ruban d'Honneur status in the next round of the competition. Final category Award winners will be unveiled in April 2014.

The European Business Awards, sponsored by RSM, Infosys, Millicom, BP Target Neutral and supported by UKTI, is an independent awards programme designed to recognise and promote excellence, best practice and innovation in the European business community. It is dedicated to raising the visibility and progress of companies who excel in delivering innovation twinned with successful commercial results whilst acting responsibly and positively affecting the social environment they operate in.