Daniel Megison's First Flight with V-Cube
Daniel Megison made his first wingsuit flight as V-Cube's extreme sports ambassador at the American Revolution Boogie on July 1st-4th at Spaceland, Dallas, Texas.
This major event, hosted by Spaceland Dallas, a 120 acre skydiving center northeast of the city, included formation jumps, free flying, novelty jumps, fun, games and more!
---
American Revolution Boogie 2016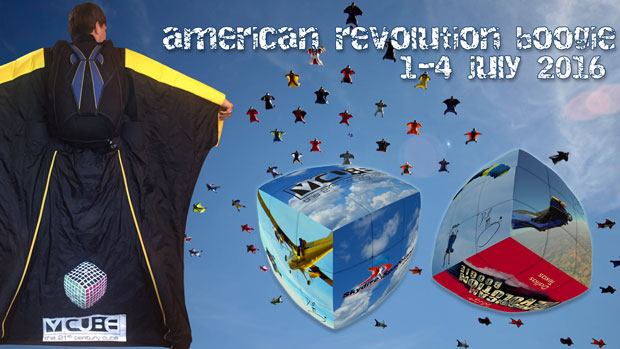 Wearing his specially-designed wingsuit with the V-Cube logo, Daniel was V-Cube's 'guy in the sky' with around 30 jumps over the four-day celebrations.
On July 4th, Independence Day, the last day of the super event, Daniel hosted a 'Meet & Greet' on the premises, where the public was invited to get to know Daniel and experience V-Cube first hand. 
He talked one-on-one with the many visitors about his passion for V-Cubing and wingsuit flying. There was excitement in the air and on the ground in the hangar – the event venue, where fans had a chance to cube on the spot, get to know the range of V-Cube products and take home some great V-Cube giveaways including a custom-made cube designed especially for the event.
Check out v.cube.adventures on Instagram where Daniel  is posting awesome photos of his extreme sports activities and nature!!