Meet Daniel Megison, V-Fan from Dallas, Texas, an awesome extreme sports fanatic
We're happy to introduce Daniel as V-Cube's new Brand Ambassador. Daniel is a 'serious' V-Cuber who likes the excitement of the moment. He likes trekking, climbing, diving and wingsuit flying. Like all 'V' fans, he aims high to meet new challenges.
Daniel always wanted to find a way to combine his passions for V-cubing and extreme sports. His story could be your story. He's a fan who entered V-Cube's Facebook Competition and kept in touch with V-Cube sharing his dreams of a relationship based on mutual goodwill.
V-Cube is backing Daniel in wingsuit flying because we believe in supporting our fans to reach their highest aims.
---
---
American Revolution Boogie 2016
June 1-4, 'V' WILL TAKE FLIGHT with Daniel, wearing his specially-designed V-Cube wingsuit, at the American Revolution Boogie Event in Texas, July 1st – 4th. Join the Countdown!!
Daniel Megison wil be wing flying for the FIRST TIME as official V-Cube ambassador wearing his new V-Cube wingsuit.
BE THERE!! 12-2 p.m. at the skydivers' landing area.
On July 4th, V-Cube is sponsoring a 'Meet & Greet' with Daniel.
You'll get to talk to him about his passion for V-cubing and extreme sports. Get there early and get in on a fantastic V-Cube giveaway WOW PACKAGE, with awesome, special edition V-Cubes, T-shirts and more!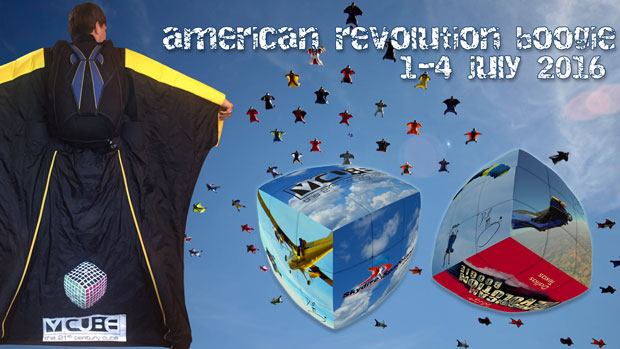 ALL HAPPENING at the American Revolution Boogie held AT SPACELAND Dallas, Texas (July 1-4).
It's a super Event for skydivers with formation jumps, freeflying, novelty jumps, fun games and more.
SPACELAND is a 120 acre skydiving center, one of the country's biggest.
The Event is going to be huge. There's yoga and warm-up stretches for the guys jumping, gourmet food trucks and awesome fireworks show.